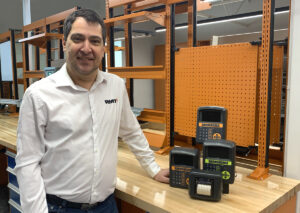 Blainville, May 9, 2023 – Establishing itself as a leading provider of weighing and vision solutions for 25 years, RMT Equipment is pleased to welcome Tino Lepore as service manager.
Tino has been evolving with the company for over 12 years now. He started at RMT as technician and then worked his way up to become technical support manager. He is an expert in RMT products, and his impressive background will allow him to be successful in his new role.
"Customer experience and satisfaction are very important at RMT Equipment. With this new position, I will focus on these elements, as well as the training of our technicians and the follow-up with our customers. » underlines Tino.
"I strongly believe in the development of our employees and Tino is a fine example of this success. Our customers as well as our technicians gain a person with incredible knowledge of our products. Congratulations Tino for this new challenge worthy of your skills" mentioned the president of RMT Equipment, Marc-André Lefebvre.
You can contact Tino Lepore by phone at (450) 951-2862, extension 116 or by email at [email protected]